Top posting users this month
What is Going On?
○ Miyuki's butt is on fire. Someone go check her den to see if she's okay.
○ Forest and Rain had their second litter of puppies, and someone familiar who went missing for years has made their appearance shortly after their birth. How mysterious...
○ Welcome, new members, Bloodless and Chance!
Statistics
Weather: The sky is a pretty clear blue; no clouds to be seen. The air is crisp and full of promise.
Word Count
All role-play posts must contain a minimum of 100 words.
Who is online?
In total there is
1
user online :: 0 Registered, 0 Hidden and 1 Guest
None
Most users ever online was
36
on Thu 30 May - 17:26
Statistics
We have
16
registered users
The newest registered user is
Chance
Our users have posted a total of
12927
messages in
323
subjects
★ ☆ ★ L I L L I A N ★ ☆ ★


★ ☆ ★ THE BASICS ★ ☆ ★
Titles:
Name:
 ★ Lillian Dakaashi Beboong
Name Meaning:
 ★ Lily of the Winter Winds
Family Name:
★ Neebageesis Maengun
Nicknames:
 ★ Lilli, Lily, Lil
Preferred title:
 ★ When she was a pup, everyone called her Lilli but she prefers Lillian now from anyone other then Luke.
Birth:
Age:
★ One year six months old
Birthplace:
★ The camp of the old territory
Birthdate:
★ Winter 2nd (December 5th)
Gender:
★ Female, well, supposedly
Breed:
★ Canis Lupus Derpius (Timber/Derp Hybrid)
Training:
Rank- Current:
★ Lillian is a Delta
Rank- Previous:
★ Pup > Apprentice > Delta
Rank- Wanted:
★ She is set on becoming Alphess
Rank- Capable:
★ Hunter
Element:
★ Lilli is of the element Sun
★ ☆ ★ APPEARANCE ★ ☆ ★
Pelt:
Fur Length:
★ Her fur slick and short
Fur Thickness:
★ She was born with a naturally thicker pelt that helps block out cold wind
Fur Colour:
★ Lil's pelt is a snow white, just like the snow of the day she was born
Fur Markings and Designs:
★ Her bangs are often dyed purple, being her favourite colour as well. She also has the symbol of a sun on her hip
Head:
Eye Colour:
★ She has amber eyes, like her mother
Eye Size:
★ Unlike her childself, her eyes are narrower giving her a sharp, sophisticated and collected look.
Ear Shape:
★ Her ears are quite pointy
Ear Size:
★ She has slightly larger ears then most
Nose Colour:
★ Lillian's nose is a dark gray
Tail:
Tail Size:
★ Her tail looks bigger then it is because they fur is longer there
Tail Length:
★ Lilli's tail length is longer then average
Body:
Wolf Build:
★ She has a slim build and elegant frame.
Scars and Scratches:
★ None
★ ☆ ★ PERSONA ★ ☆ ★
Personality:
Personality Traits:
★ Focused. Emotional. Determined. Sensitive. Popular. Dislikes being alone. Wants to lead. Shy.
Personality:
★ Extroverted/Initiative/Feeling/Judging. ENFJ- The giver. Popular and sensitive, with outstanding people skills. Externally focused, with real concern for how others think and feel. Usually dislike being alone. They see everything from the human angle, and dislike impersonal analysis. Very effective at managing people issues, and leading group discussions. Interested in serving others, and probably place the needs of others over their own needs.
Mental:
Wolf Likes:
★ Learning. Walks (with others). Small groups. Small chat. Making friends. Friends. Family. Quiet.
Wolf Dislikes:
★ Being alone. Death. Killing. Dead silence.
Wolf Habits:
★ She has a strange habit of chewing the tip of her tail when she is nervous or scares, sometimes to the point it bleeds.
Physical:
Wolf Strengths:
★ She has excellent hearing. She could easily give up a sense and rely on hearing for it
Wolf Weaknesses:
★ Talking about her father. Seeing other "happy" families. Lukas.
Wolf Talents:
★ No particular talent yet
★ ☆ ★ RELATIONS ★ ☆ ★
Family:
Grandparents:
★  Grandmother/Grandfather/Grandmother/Grandfather ~  
Parents:
★ Mother/Father ~ Miyuki/Tsuki
Siblings:
★ Brother/Brother ~ Lukas/Vladimir
Pups:
★
Friends:
Best Bud:
★ Lukas
Friends:
★ Lukas, Vladimir
Rivals:
★ Ashen
Enemies:
★ Masked Rogue
Lovers:
Crush:
★ Lillian doesn't see the world that way.
Mate:
★ None.
★ ☆ ★ EXTRAS ★ ☆ ★
Extra:
★
Extra:
★
Bibliography:
★
http://www.nativetech.org/shinob/ojibwelanguage.html,
http://www.personalitypage.com/high-level.html,
http://www.16personalities.com/,
Elemental Wolf Pack 2011.
Reference: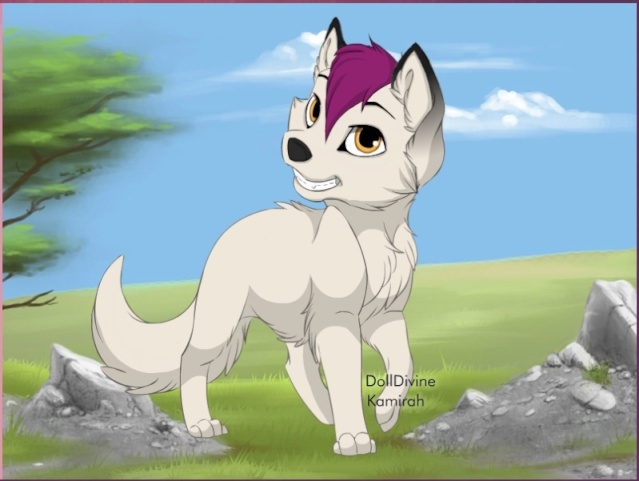 Themesong:
★ Lillian by +44
★ ☆ ★ HISTORY ★ ☆ ★
★
THE SUN IS SHINING BRIGHT LIKE A POLISHED BOOTY
THIS IS NOT OKAY FORO.
Well, okay, you can do it. SOMETIMES.

...
FINE. Do it more. c:
Booty is always acceptable.
Admin




Posts

: 2018


Join date

: 2013-04-27


Age

: 21


Location

: Ohio

Wolf Info
Zähne:


(105/1000)



Similar topics
---
Permissions in this forum:
You
cannot
reply to topics in this forum