Top posting users this month
What is Going On?
○ Miyuki's butt is on fire. Someone go check her den to see if she's okay.
○ Forest and Rain had their second litter of puppies, and someone familiar who went missing for years has made their appearance shortly after their birth. How mysterious...
○ Welcome, new members, Bloodless and Chance!
Statistics
Weather: The sky is a pretty clear blue; no clouds to be seen. The air is crisp and full of promise.
Word Count
All role-play posts must contain a minimum of 100 words.
Who is online?
In total there is
1
user online :: 0 Registered, 0 Hidden and 1 Guest
None
Most users ever online was
36
on Thu 30 May - 17:26
Statistics
We have
16
registered users
The newest registered user is
Chance
Our users have posted a total of
12927
messages in
323
subjects
Name:
Sancisco
Nicknames:
San, Cisco
Age:
2 years 3 months
Gender:
Male
Rank:
Warrior
Element:
Fire
Breed:
Iberian Wolf
Coat Length:
Two and three quarters centimeters
Pelt Colour:
White and various shades of grey
Eye Colour:
Light Pink
Markings and Designs:
The upper half of his body is light grey, while the lower half of his body is white. There are brown patches on his underbelly and thighs, and a black streak goes through his eyes. His tail is white on the bottom and black on the top. The tips of his paws and dark gray, and his claws are black as night.
Scars and Scratches:
Two small scars in the middle of his jaw.
Wolf Build:
Medium-Stocky
Personality:
Because of an incident from when he was younger, San's throat was burnt beyond repair and he can no longer speak for a long periods of time. His voice also sounds distorted and scratchy, and he suffers from asthma and malnutrition because of this. However, because of  his pyromania, he has developed his fire element to the point he can command it's every aspect, from the level of it's heat to it's exact shape and movements. San is naturally unafraid of any type of heat, and enjoys nothing more than lying down on a nice heated slab of stone. It's his complete ease with fire that allows him to be able to battle from a long distance, knowing if needed he can easily cover his entire body in flames at will if his opponent gets to close. He does this by having his flames hover just above his fur, making it appear as if his body has burst into flames.

San is not the kind of wolf that will accept a challenge simply because he is challenged. He enjoys taking his time with everything he does, whether that be eating, hunting, fighting, or anything in between. Everything he does he thinks through carefully, and is an excellent planner. San is also very orderly and neat, organizing anything he happens to own neatly and efficiently. There is never a mess in his living area, and if he sees a mess he
will
clean it, whether it be his mess or not. San is very intelligent, and if you have a puzzle or a problem to figure out he will gladly assist you.

Despite his quiet nature, San is a true maniac at heart. He loves nothing more than to see something,
anything
, burn. He "eliminates" things he sees as pests using this method, burning their bodies to ash and then letting the wind scatter, making them disappear without a trace it seems. Easily agitated by other wolves inwardly, externally San never shows his emotions, leading those he is targeting to believe he has nothing against them.  His target will never realize how hated they are in his view until their bodies are on fire and it's too late to scream for help.
Wolf Likes:
Pyromania, Humming, Honey
Wolf Dislikes:
Talkative Wolves, Rushing In, Talking A Lot
Wolf Strengths:
Ambushes and Sneak Attacks
Wolf Weaknesses:
Communication, Malnutrition, Asthma
Wolf Habits:
Humming A Lullaby His Mother Sang To Him As A Child (See Themesong; Th2), Pyromania
Wolf Talents:
Figuring Out Complex Mentally Challenging Puzzles
Parents:
KATRINA - Wind (Deceased)

IAN - Water (Deceased)
Siblings:
FRAN - Earth (Missing)
Pups:
No.
Best Bud:
He doesn't talk enough to really bond with any wolf that talks more than a few sentences a day.
Friends:
He has none.
Enemies:
He has not made any.
Crush:
Of Course Not
Mate:
No One So Far.
Extra:
San is an insomniac.
Extra:
San loves berries of any kind
Reference: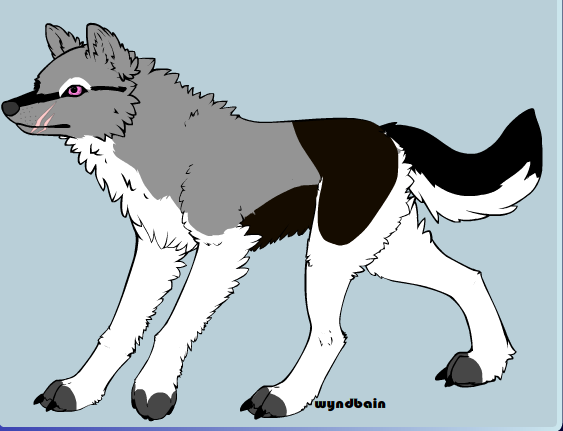 Themesong:
Negative Nightcore - Pyromania



Nausicaä of the Valley of the Wind(Glass Harp) - Requiem
In the very beginning, there was a prophecy. It stated that the pup who bore the heart of death in his eyes and the mark of Cau, the God of Misery and Suffering upon his muzzle was destined to destroy them all. When San was born, with the two scars upon his muzzle and pink eyes, he was immediately assumed to be the bringer of their demise. In a desperate attempt to change their future, the pack Alpha threw him into a cave and then sealed it with a rock with only a hole for food. This only sealed his fate though. Alone in that cave, San become cold and distant, never doing anything but stare at a wall for hours on end and ruminate about the cards he had been dealt in life. Eventually, he began to despise the very people who had given birth to him. It was their fault he existed and was going through this hell. Very rarely did they come through the cycle to give him food, but every time they did, he snapped and swiped at their paws, howling and foaming at the mouth in utmost rage. This caused the rest of his pack to be absolutely terrified of him, and many debates raged over whether they should just murder him or keep him alive. They thought him savage, wild, and utterly stupid, What they didn't realize was he had discovered his fire element on accident, and had been listening to their conversations for a year now. When he was younger, he would stick his head through the hole and watch them it helped to be the color of the rocks around him. He had been plotting his escape for months now, training himself in the art of fire day in and day out, and the moment he heard the interior of the cave was to be set on fire, an evil plot hatched in his mind.

When the day came, he allowed the flames to completely cover the interior of the cave before using all the fire to violently shove the rock out of the way and let it flood out into the surrounding forest, burning everything to the ground. Walking through the flames, he laughed hysterically, until chancing upon someone smelling similar to him. It was then he discovered he had an older sister. Horrified by what he had done, she threw a burning stick at him, and he accidentally ate it. Choking and gagging, he was forced to swallow it, causing permanent damage to his throat. Shortly afterwards, his sister disappeared. San hasn't seen her since.



Work In Progress
Boopity Boop

-Accpted and Moved-
Admin




Posts

: 2018


Join date

: 2013-04-27


Age

: 21


Location

: Ohio

Wolf Info
Zähne:


(105/1000)



That's... A... Wonderful back story you've got there... Kimiko look forward to meeting you~
Music with glasses of water....
---
Permissions in this forum:
You
cannot
reply to topics in this forum