Top posting users this month
What is Going On?
○ Miyuki's butt is on fire. Someone go check her den to see if she's okay.
○ Forest and Rain had their second litter of puppies, and someone familiar who went missing for years has made their appearance shortly after their birth. How mysterious...
○ Welcome, new members, Bloodless and Chance!
Statistics
Weather: The sky is a pretty clear blue; no clouds to be seen. The air is crisp and full of promise.
Word Count
All role-play posts must contain a minimum of 100 words.
Who is online?
In total there is
1
user online :: 0 Registered, 0 Hidden and 1 Guest
None
Most users ever online was
36
on Thu 30 May - 17:26
Statistics
We have
16
registered users
The newest registered user is
Chance
Our users have posted a total of
12927
messages in
323
subjects
Page 3 of 3 •
1, 2, 3
First topic message reminder :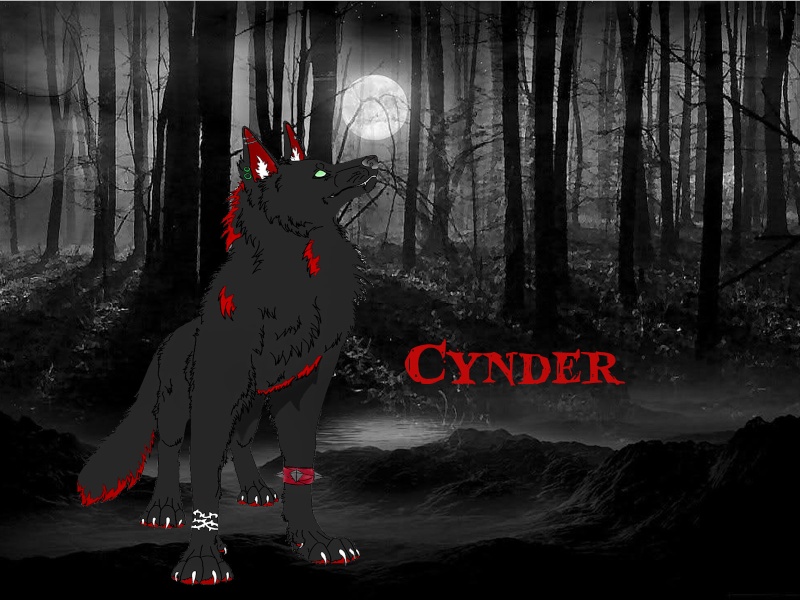 Name: Cynder

Age: 2 

Nicknames: None

Rank: Warrior

Element: Earth

Crush: N/A

Mate: N/A
Appearance:
Cynder's fur color is black as charcoal and he has some fur tips that seemed like they were dipped in a bright red color. The padding of his paws is a dark red and for markings he has vines with thorns wrapped around his front right leg. His claws are unusually long. He often wears a bracelet his father made him that has spikes made of Iron. And he has piercings in his ears which were placed on him when he was a pup by his father, including the unusual tribal piercings (gauges). His eye color is a pale greenish jade color like his father except for the fact that he is blind.
Personality:
Cynder can be a bit quiet, he isn't much of a talker and does not tolerate outrageous behavior. Yet he is friendly when it's needed but mostly he can be hostile to others who challenge him! Even so he is serious, traditional like his dad, and feels rather lonely at times due to his blindness getting the best of him. Overall he remains loyal to the pack and to his family. But lately a darkness stirs within him, as if a curse fell upon him at birth and yet he cannot escape these horrid thoughts and the sudden craving of blood shed. 
Mother: Seeker (deceased)

Father: Cyrax (deceased)

Sister: IceWing (Alive somewhere)

Likes and Dislikes:
Likes: *Meat * Learning spiritual shaman stuff * Females that interest him * Training *Leading * Battle * Earth *Rainy days * Summer  *Knowledge *Leading

Dislikes: *Noisy wolves * Enemies * Wolves who threaten his family * Annoying females and males *Those who question the Shaman Pack *Those who accuse him of being weak
Cynder was born back in the old pack territory along with his sister Icewing. Back than things were great and he had a loving mother and sister but mostly he spent most of his days with his dad or in the den practicing the rituals of the shaman and even practicing the designs. Though he was born blind, he felt one with the earth a feeling that made him see all. As if he was the very core of this planet. Growing up wasn't much, however things changed quickly. Mother and sister have fled and left him and his father alone. And even after the terrible air raid, Cynder became more isolated than ever. His father was never around as much unless it was training or teaching him, but Cynder knew well that his father loved him and was just heartbroken. For now, Cynder is focused on the future and to become the greatest warrior like his dad. Perhaps one day he can lead great forces or take the place as Alpha in the Shaman Pack. Till than the present is still holding some surprises that he will soon have to face alone without his dad.
BTW the image of Cynder is by me. I made my first line art xD
Last edited by Cynder on Mon 22 Dec - 1:08; edited 4 times in total
---
Can I have a taste of dat booty tho?
Stay away woman it's mine for the taking! *hiss*
Cmon now, I just wanted a taste of the booty. I love booty. How about just one piece?
Page 3 of 3 •
1, 2, 3
Similar topics
---
Permissions in this forum:
You
cannot
reply to topics in this forum