Top posting users this month
What is Going On?
○ Miyuki's butt is on fire. Someone go check her den to see if she's okay.
○ Forest and Rain had their second litter of puppies, and someone familiar who went missing for years has made their appearance shortly after their birth. How mysterious...
○ Welcome, new members, Bloodless and Chance!
Statistics
Weather: The sky is a pretty clear blue; no clouds to be seen. The air is crisp and full of promise.
Word Count
All role-play posts must contain a minimum of 100 words.
Who is online?
In total there is
1
user online :: 0 Registered, 0 Hidden and 1 Guest
None
Most users ever online was
36
on Thu 30 May - 17:26
Statistics
We have
16
registered users
The newest registered user is
Chance
Our users have posted a total of
12927
messages in
323
subjects
K A I N E
Female
3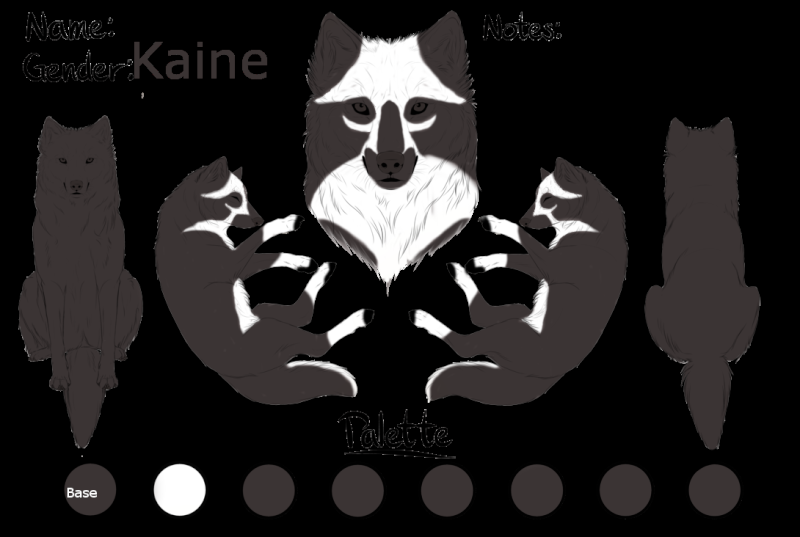 Personality: Kaine is a young alpha which means she still has a puppy type of personality to her. Kaine tends to think that whatever comes out of her mouth, is a dominants way of saying something even though it might not be. She is also a very strong willed type of wolf with a tendency to stand up for herself rather defiantly. As a friend, she is more relaxed and laid back. As a foe, she has a mouth she thinks no one can top and the fighting experience that a pup could master. Kaine learns quickly and seeks guidance when she needs it. She is truly kind and devoting when it comes to her rank and her responsibilities.
History: Kaine doesn't have much history that would be worth telling. She was orphaned just when she turned three and as her parents died of illness, so did the rest of her pack of which she took over with little guidance from which her parents were able to give her. Kaine now stands in a war with herself and contemplates whether or not she is worthy of such a high ranking.
Looks good! I shall move it to the foreign records.~
I would recommend adding other info listed below, but this bio has all the basics needed.
The Basics:

Name:Nicknames:Age:Gender:Rank:Element:Breed:

Appearance:

Coat Length:Pelt Colour:Eye Colour:Markings and Designs:Scars and Scratches:Wolf Build:

Persona:

Personality:Wolf Likes:Wolf Dislikes:Wolf Strengths:Wolf Weaknesses:Wolf Habits:Wolf Talents:

Relations:

Parents:Siblings:Pups:Best Bud:Friends:Enemies:Crush:Mate:

Extras:

Extra:Extra:Reference:Themesong:

History:
Welcome, new friend.
Admin




Posts

: 2018


Join date

: 2013-04-27


Age

: 21


Location

: Ohio

Wolf Info
Zähne:


(105/1000)



Haha I will add some stuff later, I promise

And Thank you!
I made my bio as a picture like hers. But only a picture with the name gender blah blah blah on Luna's. hehehe

YAAAYY! Welcome Kaine! *Bows before Alpha*

By the way, does the rival pack ever got a name? Like the good pack, LOTE, has a name. Wolves of the ELements. Right? Just wondering. Not trying to bewitch you on changing it. xD
Our pack name is the Kýklos Prostasía Pack-- as stated on the thread. Some of us just call it Elemental Wolf Pack. The first one sounds much nicer though, eh?

As for the the rival pack name, we do not currently have one. Originally, the rival pack was never meant to be part of the main plot. Perhaps I will make a contest soon and everyone can put in their ideas to what the rival pack should be called!
Admin




Posts

: 2018


Join date

: 2013-04-27


Age

: 21


Location

: Ohio

Wolf Info
Zähne:


(105/1000)



Yep!

I heard that in the thread. I just call it Elemental wolf pack.
Okay, then I will just name it rival pack. LOLOLOL
Uh... I... read Kaine's posts... and... she scares me slightly ._.
Lovely informationays. What am I doing in the foreign records....
What are we doing in ALL the topics?
---
Permissions in this forum:
You
cannot
reply to topics in this forum