Top posting users this month
What is Going On?
○ Miyuki's butt is on fire. Someone go check her den to see if she's okay.
○ Forest and Rain had their second litter of puppies, and someone familiar who went missing for years has made their appearance shortly after their birth. How mysterious...
○ Welcome, new members, Bloodless and Chance!
Statistics
Weather: The sky is a pretty clear blue; no clouds to be seen. The air is crisp and full of promise.
Word Count
All role-play posts must contain a minimum of 100 words.
Who is online?
In total there is
1
user online :: 0 Registered, 0 Hidden and 1 Guest
None
Most users ever online was
36
on Thu 30 May - 17:26
Statistics
We have
16
registered users
The newest registered user is
Chance
Our users have posted a total of
12927
messages in
323
subjects
(I was encouraged to write this it had been an idea for a while hope y'all enjoy <3)
The Fall
It was late winter, snow and ice covered the garden in winter's ghastly glow.  This garden however was not an ordinary garden, the only plants grown were roses black as the midnight sky these plants were in bloom year round, like everything else in the divine, death was not seen. The swollen moon cast a gentle glow on the stone walls surrounding the garden bathing them in a soft white glow. Leaning on one of these walls was a girl, like everyone else she had been here since the beginning of time though she looked no older than seventeen. Her skin was as pale as the moon and her hair, darker than the night sky, fell to the center of her back. Her vibrant indigo eyes held peace and a clear sense of fear. Upon the girls back were wings that looked to be made of raven's feathers that currently rested against her back, but when they were spread they could reach six feet in length. She wore a charcoal gray dress that fell to her feet; at her knee the silky fabric was ripped as though an animal had ripped through it.
Looking to the starlit sky the girl shuddered. She knew as well as any that this would be the last night spent in the divine peace, for war was upon the land. An angel army had risen against the throne. Each being was called forward to choose a side in battle. Instead of choosing, she ran taking refuge in her peaceful garden. "Andromeda?" a deep raspy voice spoke behind her, she knew this voice well, it belonged to her friend and currently biggest ally, Orion. Slowly the girl turned facing her friend, the fear in her eyes grew stronger hearing his voice. Taking a breath Andromeda took in her friend's familiar features.  He had dark brown hair that fell to his jaw line, his deep blue eyes mirrored the fear in her own, his wings however were a light shade of gold showing he had taken the side of the angel in battle. Orion walked towards her pulling her into a gentle embrace "I wish it hadn't come to this." he spoke softly his tone held a sense of sadness mixed with the fear of what was to come. Pulling back, she moved back to the wall.Beyond the wall she saw the dark indigo mist that ran beneath the city, "I know, I'm sorry... I ran, I couldn't choose between them. If I chose one I would betray the other. I guess I'm finally living up to my title "angel of chaos." Andromeda sighed turning her sharp gaze away from the mist swirling below where they stood. Running her finger along the stem of a flower, carefully avoiding the thorns, she knew she would have to fight anyway. Spreading her fingers, a sword rose from the dark plants, its blade was silver as the moon, moving up to the handle that was a dark shade of gray embedded with rubies. Placing the sword in it's sheath she returned to Orion, "When the time comes for battle I shall fight alongside you." With this the edges of her wings turned a stunning golden color, she was surprised when it didn't spread fully. " I was hoping you would say that, I would never be able to raise a sword against you, Andromeda." Hearing the raspy tone of his voice calmed her.
Taking a slow breath, she ran her hand against the cool stone waiting for the war to begin. Tears sprang in her eyes hearing the first screams then came the horrid screeching of metal on metal. Drawing her own sword, Andromeda stood facing the entrance of the garden Orion mimicked her actions before giving her a small nod. Four angels appeared at the garden's entrance, their wings a shining white, they had chosen the throne. Swords clashed; silver blood sprayed as Andromeda thrust her sword through one of the angels heart. Another rounded behind her. She twirled around shoving her sword over her head, hearing the satisfying clang of the swords she gave a brief twist of her arm sending the other angel stumbling backwards. Those seconds of clarity were all she needed. Leaping forward she pinned her opponent to the ground, a scratching sound filled the air as his sword tumbled across the stone. Plunging her sword through his chest she stepped back, the ground shook she looked to her friend seeing he faired as well as she did. The ground shook once more, harder this time. Stepping forward, Orion gently touched her elbow, giving a small smile as if he knew what was about to happen. The stone beneath them shattered sending them tumbling into the mist. Andromeda knew she was screaming though the sound didn't reach her ears. She couldn't see anything but gray. She attempted to use her wings, but it felt as if stone blocks had been bound to them. They were completely useless, all she knew was she was falling blind and helpless tumbling into the unknown.
Last edited by Shimmer on Mon 12 Jan - 9:29; edited 1 time in total
._. Teach me how to write fight scenes like that. Please.

*Cough* I'd give you constructive criticism, but... I've made a girl cry before doing peer reviews. So... I... think I'm just gonna NOT
Fight scenes are easy Robin xD any way chapter one will be up later today or tomorrow isn't writers block fun......
here is a lovely little picture of Andromeda <3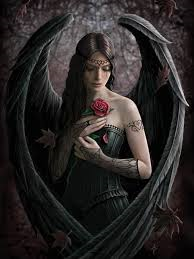 Andromeda is the angel of... Chaos?
Nice! Very descriptive scenes.

My only critique is your use of commas. There are quite a few comma splices in there. It ruins the flow of the sentences and makes it harder for readers to understand. They have to pause and look back.

Other than that great story! I would like to hear more. Divine stories that deal with war always turn out to be interesting.
Admin




Posts

: 2018


Join date

: 2013-04-27


Age

: 21


Location

: Ohio

Wolf Info
Zähne:


(105/1000)



Thx Thundo I will defiantly keep the comma thing in mind <3
gareouadwesi I've spent three days typing up a chapter I already wrote because I'm a lazy arse amd simply don't want to do it but I do want to do it at the same time.

Writer's Block for ideas and effort suuuuucksss Shimmy-butt. It suuuuuuuuuuuckksss
Similar topics
---
Permissions in this forum:
You
cannot
reply to topics in this forum