Top posting users this month
What is Going On?
○ Miyuki's butt is on fire. Someone go check her den to see if she's okay.
○ Forest and Rain had their second litter of puppies, and someone familiar who went missing for years has made their appearance shortly after their birth. How mysterious...
○ Welcome, new members, Bloodless and Chance!
Statistics
Weather: The sky is a pretty clear blue; no clouds to be seen. The air is crisp and full of promise.
Word Count
All role-play posts must contain a minimum of 100 words.
Who is online?
In total there is
1
user online :: 0 Registered, 0 Hidden and 1 Guest
None
Most users ever online was
36
on Thu 30 May - 17:26
Statistics
We have
16
registered users
The newest registered user is
Chance
Our users have posted a total of
12927
messages in
323
subjects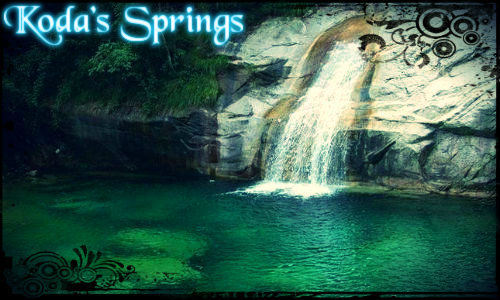 ~Description~
Hot springs, a valuable place to relax in the winter. Named after the Time wolf TaKoda.
~Prey~
No prey, it is to hot for fish
Mist soon saw water ahead of him, and began to slow down, and eventually came to a halt beside the springs. He dipped a paw in, and pulled it back. "Careful. It's a bit hot" he said to Sapphire, smiling a bit. The golden-pelted brute extended his paw and dipped it in again, then put his other paw in. Warm......a good place to swim in the winter he thought, and carefully waded in a little bit deeper, until the water was almost touching the yellow fur on his chest. He looked back at Sapphire, and nodded with his head, persuading her to follow him into the body of water. Mist pressed his ears back against his head, lifted his muzzle, and let out a short noise that was in between a bark and a howl. He turned his head to look over his shoulder, his jade green orbs focusing on the slender white she-wolf behind him. He smiled, and wagged his tail, inviting her to come and join him once again.

Number of Words: 172
Sapphire came to a halt beside Mist, and looked around. There was a powerful, rushing stream of water pouring down from jagged rocks and into a lake below. Pretty she thought, twitching an ear. Just then Mist put a paw into the water, pulled it back, and warned Sapphire that it was a little hot. She just smiled and took a few pawsteps forward. When she did this, Mist placed his paw back in the water, and soon his other front paw followed. Then he turned back and motioned for her to come in with him. Sapphire smiled once more, lifted one paw, and gingerly tested the water with it. Then she used that paw to flick water at Mist. She came farther into the water, and splashed around some more, sending tiny water droplets flying through the sky, catching the beams of sunlight and glimmering like little crystals. The she-wolf laughed and prepared for Mist to send some water back at her, a playful smile on her face.
Mist smiled as Sapphire came and followed him into the warm water. His jade green orbs looked around at the rest of the area, when he felt little drops of warm water fall onto his golden coat. He turned and saw Sapphire looking at him, grinning. "Oh, okay. I see how this works" he said, smirking. He lifted one of his own paws and sent went flying towards the she-wolf, watching it splatter all over her smooth white fur. "You dare to challenge the great Mist in a war of water splashing?" he said, standing up taller and puffing out his chest, a smile still on his face. He raised his ears and lifted his tail, waving it back and forth playfully as his green eyes glimmered deviously. He flicked some more water at the snowy-white female. "Gimme the best you got, girl!" he exclaimed, preparing to send more water at Sapphire.

Number of Words: 153
Sapphire giggled as Mist accepted her challenge, and flicked some water back at her. The she-wolf started laughing even more when he acted like a legendary "water-war" opponent, and puffed out his chest and stood up straighter. "Yes, I, Sapphire, do challenge the great Mist to a war of water splashing!" she declared, copying the male's stature and raising her ears and tail. Then when Mist splashed some more water her way and told her to give him her best, she smirked and nodded. She lowered her tail down until it touched the water, and made sure to get the white tip soaked. Then, she spun around, and watched as the drops of water flew off her tail and towards the golden-furred male. Then Sapphi said "Oh no! How will Mist the Great counter the Dark Queen Sapphire's attack?" The lupa smiled, wagging her tail slowly and waiting to see what tricks Mist knew.
Mist gasped in mock astonishment at Sapphire's move. Then he bent down, lowering his head and muzzle, and scooped some water in his jaws. Then he bent down in a play bow position, his tail wagging. Suddenly, the golden male shot forward, darted around to the left, turned his head, and sent a stream of water flying from his mouth to hit Sapphi on the cheek. Once he was behind the white she-wolf, he sent drops of water flying towards her with his paws. He even used some of his time powers to make the little sparkling droplets move through the air faster. Then he ran back in front of Sapphire, more water splashing up from his paws as he ran past her. "That is how I will counter attack!" he exclaimed, his green eyes looking into Sapphire's blue ones, a challenging smile on his face, his tail wagging slowly back and forth.
Sapphi cocked her head as Mist lowered his head down and lapped some water into his mouth. Is he thirsty or what? Besides, this water isn't even cool enough she thought. The femme kept her blue eyes on the golden wolf as he eventually raised his head and looked at her before going down in a play bow. What is he up to? Sapphire wondered as she started to smile. She tensed up when Mist suddenly ran forward, and off to the side. The snow-white she-wolf squealed a bit when she felt water hit the side of her cheek. So that's why he had water in his mouth! she realized. She turned around in order to keep her eyes on Mist, who was now splashing water towards her from behind. But as soon as she had found Mist again, he took off, splashing more and more water as he went past Sapphire. She laughed as he declared that was his counter-attack. "Oh yeah?" Sapphi  said, copying Mist's smile. "Well here's mine!" she said. The white lass ran forward, and, copying Mist again, went off to one side. But instead of spraying water, she stopped, and threw herself at the brute, knocking herself and him down into the water.
Mist growled playfully when Sapphire ran towards him. He went to dodge over to one side, but instead the white she-wolf copied him, and went off to the side. Mist prepared for water to be splashed towards him, but then yelped in surprise when the female ran right into him, knocking him down. When he landed in the water next to Sapphire, he looked over at her. The expression on his face was one of surprise and shock, but it quickly changed to a smile. Mist then looked up at the sky and siged. I wonder if Dad, Breeze, and Story are back yet he thought. Something told him that the three wolves were nearby, and he wanted to go and see them. "Hey..." he said, looking back at Sapphi. "How about we head back now?" he asked, rolling over and getting to his paws. He gave the snowy-white lupa a little nudge with his nose, then waded out of the water, shook his golden coat, and began padding in the direction of the camp.
Sapphire giggled at Mist's yelp. She stared at him, and saw the surprised look on his face. When he didn't do anything right away, the she-wolf began to worry a little. Did I actually hurt him? she wondered. I hope not... Just then the brute smiled. Sapphire sighed a little and smiled back. She rolled over onto her belly, and put her head underneath the warm water. She lay there holding her breath for a few seconds, then lifted her head up, and shook her head to get the water off her fur. Then she looked over at Mist, who had also gotten to his paws. She nodded. "It is about time we got back to the camp" Sapphire agreed, and followed the male, copying him by shaking her coat out once she was out of the water. Then she trotted behind him as they headed back to the camp.

To Lycos Forest
Similar topics
---
Permissions in this forum:
You
cannot
reply to topics in this forum