Top posting users this month
What is Going On?
○ Miyuki's butt is on fire. Someone go check her den to see if she's okay.
○ Forest and Rain had their second litter of puppies, and someone familiar who went missing for years has made their appearance shortly after their birth. How mysterious...
○ Welcome, new members, Bloodless and Chance!
Statistics
Weather: The sky is a pretty clear blue; no clouds to be seen. The air is crisp and full of promise.
Word Count
All role-play posts must contain a minimum of 100 words.
Who is online?
In total there is
1
user online :: 0 Registered, 0 Hidden and 1 Guest
None
Most users ever online was
36
on Thu 30 May - 17:26
Statistics
We have
16
registered users
The newest registered user is
Chance
Our users have posted a total of
12927
messages in
323
subjects
Page 2 of 2 •
1, 2
First topic message reminder :
Greetings, friends and family, brothers and sisters in arms. I wish you a warm welcome to what used to be Land of the Elements. Alas, for it seems we are no longer safe from the rising conflicts between the skeletons and fuckboys. Last year we were fortunate enough to be spared, but this year will be different. 
Indeed, I was shocked to hear from Mr. Skeltal, the great leader of the skeleton army, that our site has become infected with an unknown number of fuckboys. I tried to assure him that no such thing could ever happen, that we, despite our meaty bones, were loyal to their regime.
"We are no fuckboys, sir,"
I told him, but he simply snooted me away with his mighty trumbone. 
I decided to visit one of my mentors, Skeletor, to ask of him how I should handle the situation, and I'm afraid no good news could come out of it. The result of the talk had me concluded that one of us is in fact, a fuckboy (gasp from the audience). Yes, that's right. Someone among us is a traitor. 
But who?
Well, there's only one way to find out, and it will take the help of all of you. 
A Brief History:
__________________________________________________________________
Summary |
Fuckboys have invaded Land of the Elements, and it will take all of us to stop them. However, it seems that the only reason they ever got in, was because one of us is one! In order to prove your allegiance, you must fight and prove your innocence.
Method | 
For this event, every participating member will have their "Zahn Bar" set to zero. In replace of Zahn, the bar will be a measure of how many fuckboys you eliminate. How do you destroy fuckboys? POST! For every post you make, you destroy a set number of fuckboys in the process! Do not worry about your current Zahn. Everything will be put back to normal in one month's time.
If you're lucky, you may come across a fellow skeletal warrior in need of assistance. If you are the first to help said skeletons, they may send you a gift in thanks! More info on this down below. 
Outcome |
Whoever destroys the least amount of fuckboys will be deemed unloyal to the skeleton cause, and thus, be looked upon as the traitor and fuckboy. The one who destroys the most fuckboys will be hailed as a hero. Maybe something else will happen?
Rules | 
1. Double posting does not, and will not be counted.
2. Trust no one.
3.  Good luck, soldiers, May you have milk. Always.
__________________________________________________________________
In order to participate in this event, you must fill out this application below: *Please note that your username will be changed in accordance to your skeleton name
Skeleton War Application:
__________________________________________________________________
Skeleton Encounter:
If you happen to come across a skeleton in the forum pages, you'll find out that they will ask you to do something for them. What that something is depends on the individual skeleton and the situation. After encountering one, you will see a dialogue, as well as instructions on how to accomplish what the skeleton needs. In order to get credit for helping, you will have to type a certain keyword or phrase in this topic. Again, you will find out that phrase once you complete said tasks.
__________________________________________________________________
If you have not already noticed, the event has a fair deal of inappropriate words and jokes. If you are uncomfortable with this event, feel free to say so, and I will do my part to make it more user friendly.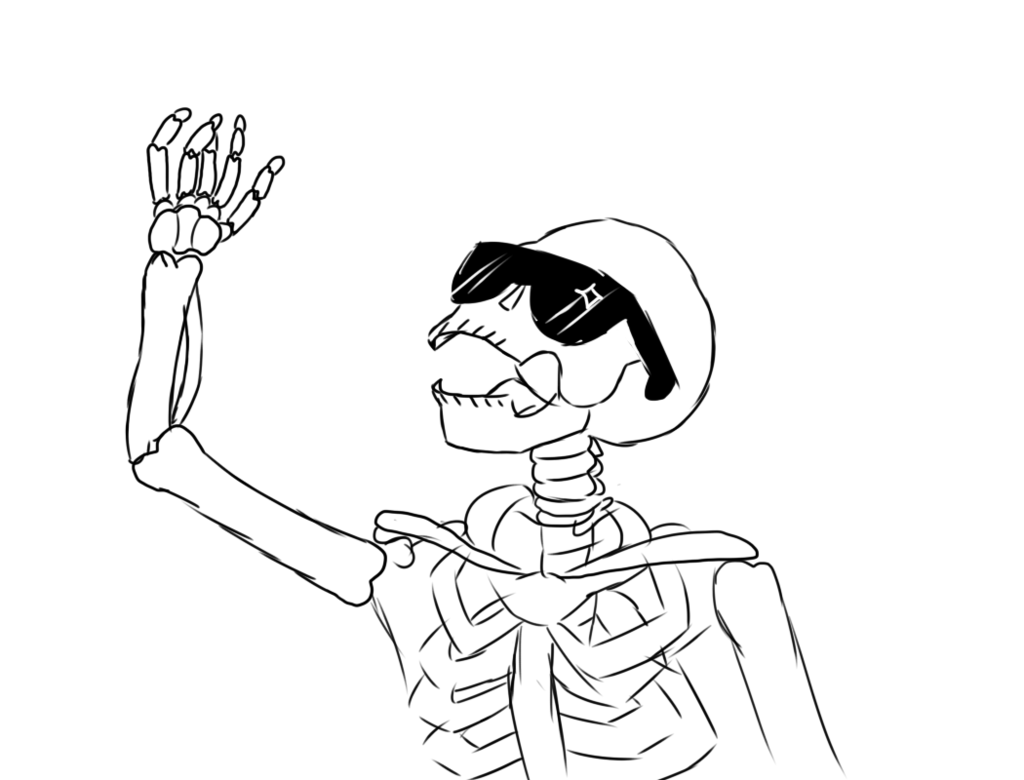 Last edited by Thundo Puffs on Sat 7 Nov - 20:23; edited 1 time in total
Admin




Posts

: 2018


Join date

: 2013-04-27


Age

: 21


Location

: Ohio

Wolf Info
Zähne:


(105/1000)



---
xD So now that it's over, what will happen next? Does the winner get some skeleton booty or something?
Indeed, my skelesons, the battle is over. Do not fret, for surely the skeletons shall return to fight another day. Now, as for results, here they are as follows:

Coming in first place, the ultimate warrior of our forums goes to Calcium-rich Rattle Bones. Good job, soldier.

2nd Place: Lateabone
3rd Place: Boneanna
4th Place: Spooky Puffs
5th Place: Lunatic Skelly

So, that begs the question... who is the f*ckboy? Surely, our combined efforts must have come up with something? Well. they did. My children, look no further, for Lunatic Skelly is the f*ckboy! Yes, Lunatic Skelly... you are the guilty one! ....Oh, what? You want evidence? pSHHH who needs that!? You had the lowest number of posts within the month, meaning you contributed the least to our cause! ...Huh? What? The other f*ckboys, then? Did we get rid of them, you ask? Oh...well... I mean...we found the one responsible, at least...

We did vanquish many of our unwelcome invaders, but many still remained. It was then when I took action into my own hands. I searched through the phone books and found the numbers of each and everyone. I then called their house, asked to speak with their parents... and that was that. Their mothers really handed it to them. I also had skeleton agents sneak into their rooms and take away all of their Xbox One games and Nike shoes. The rest is history.

So, onto rewards and punishments. Lunatic skelly... you were probably unaware of your wrongdoings. I know what a true f*ckboy is, and you aint one of them. It must have ben accidental. For that reason, I shall not punish you further. Knowing that you contributed to the invasion... is already enough to bear. As for you, Sir Rattle-bones, I award you with the highest calibur award possible.... boasting rights! Along side that, I give you the rank of "Ultimate Spook". Wear it well. Come next October, I will rely on you to be in charge of defense.

Thank you to all who contributed to this months activity. The posting numbers and passion for this event was phenomenal! Next year will only get better. Everyone make sure to check their pm's every once in a while. the skeletons may rewards you...



Admin




Posts

: 2018


Join date

: 2013-04-27


Age

: 21


Location

: Ohio

Wolf Info
Zähne:


(105/1000)



Page 2 of 2 •
1, 2
---
Permissions in this forum:
You
cannot
reply to topics in this forum